Dr. Laura Stewart was born and raised in Mount Vernon, Washington. She attended Pacific Lutheran University and graduated Magna Cum Laude with a degree in Biology. Dr. Laura ventured east for dental school and graduated from the University of Minnesota in 2007. As a new dentist, she desired a meaningful way to begin her career and joined the Indian Health Service. She spent two years on a reservation in rural northern Minnesota and helped develop comprehensive care at an underserved facility. After gaining experience in both public health and private practice, Dr. Laura realized her passion for treating children and completed a pediatric dental residency at the Alaska Native Medical Center in Anchorage, Alaska in 2013. Dr. Laura is delighted to make the Pacific Northwest her home again and looks forward to having a lasting effect on the dental health of children in her community and beyond.
Dr. Michael Austin
Known as Dr. Mike, by his patients, Michael B. Austin is a Board-Certified Pediatric Dentist. Dr. Mike was born in California and grew up in Utah. While attending the University of Utah, he played football for the Utes and spent two years on a mission trip in Chile, which made him fluent in Spanish.Dr. Mike went on to attend dental school in Pittsburgh and a two-year anesthesiology residency in Stony Brook, on Long Island. During this residency, he met his future wife and discovered the joy of working with children. This led him to complete a residency in pediatric dentistry in Brooklyn, NY. Having a heart for service, Dr. Mike has participated in mission work both here and abroad.
The beautiful scenery and culture of the PNW led Dr. Mike to Washington, where he and his wife and dog, now call home. Outside of dentistry, Dr. Mike enjoys watching college football, cheering for the Seahawks, snowboarding (favorite spot: Snowbird), playing golf (favorite spot: Guam), reading, traveling (favorite spot: Maui), and spending time at the many wonderful dog parks of Western WA with his wife and dog.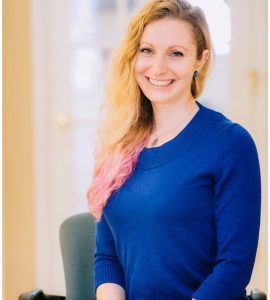 Dr. Rosenbaum, or "Rosey" as she likes to be called, has a longstanding passion for working with children. Her mother is a special needs therapist, and she grew up volunteering with her mother, as well as at hippotherapy programs (Hippotherapy is a specialized therapy for children involving horses). After graduating with honors from Rutgers School of Dental Medicine, Dr. Rosey continued on at Rutgers to complete specialty training at the Pediatric Dental Residency Program, where she was chief resident. She is a firm believer in giving back to the community, and has participated in many dental outreach trips both locally and internationally. She is an active member of the American Academy of Pediatric Dentistry, the Washington State Academy of Pediatric Dentistry, the American Dental Association, and is an American Board of Pediatric Dentistry candidate. Dr. Rosey loves connecting with children to provide a sense of safety within their dental home. She adores the staff and assistants at Apple Pediatric Dentistry, and wants her patients to love their experience there as much as she does! Dr. Rosey recently relocated to Lynden to be closer to her family, and couldn't be happier. In her free time she enjoy nature hikes, bird watching, and riding horses.
Dr. Edward Chin is a graduate of University of Michigan where he received his Doctor of Dental Surgery and specialty training in Pediatric Dentistry while concurrently completely his Masters of Science Degree.He continues to lecture internationally on a range of topics in his specialized field of Pediatric Dentistry. Dr. Chin enjoys creating the most esthetically pleasing results for all of his patients and he has a keen interest in arch development and early treatment orthodontics. Some of the expansive number of procedures that Dr. Chin is trained to do include: full mouth rehabilitation, white or silver fillings, stainless steel crowns, porcelain crowns, porcelain veneers, teeth whitening, pulpotomies, pulpectomies, root canals, simple extractions, surgical extractions, space maintenance, palatal expansion, space regaining, arch development, complete orthodontics and many other services. All of the above mentioned interests have been included as a part of Dr. Chin's practice focus throughout his career.
Dr. Chin is very calm, yet very passionate about what he does and strives to be a positive influence in developing a strong dental experience for both parent and child alike. He continues to update his skills by taking multiple continuing education courses and participating in a full range of professional development that exceeds the requirements for State licensure. As a testament to Dr. Chin's commitment to his professional excellence he has completed the rigorous examination process that qualifies him to be a part of a special group of Pediatric Dentists worldwide who have earned the distinction of Diplomat status with the American Board of Pediatric Dentistry.
"I feel privileged to be a positive influence to your child's oral health and dental experience."
~Rose Chen, DMD
Dr. Rosemary Chen graduated
magna cum laude
from Boston University Goldman School of Dental Medicine. During her tenure at Boston University, she was awarded the Certificate of Achievement Award in Operative Dentistry. In addition to practicing dentistry, Dr. Chen has also volunteered in the Boston Special Olympics as well as numerous other organizations. She is passionate about her patients' oral health and is excited to be an integral part of the team at Apple Pediatric Dentistry.
Education:
Bachelor of Science in Pharmacy, University of British Columbia
Doctor of Dental Medicine (DMD) from Boston University Goldman School of Dental Medicine